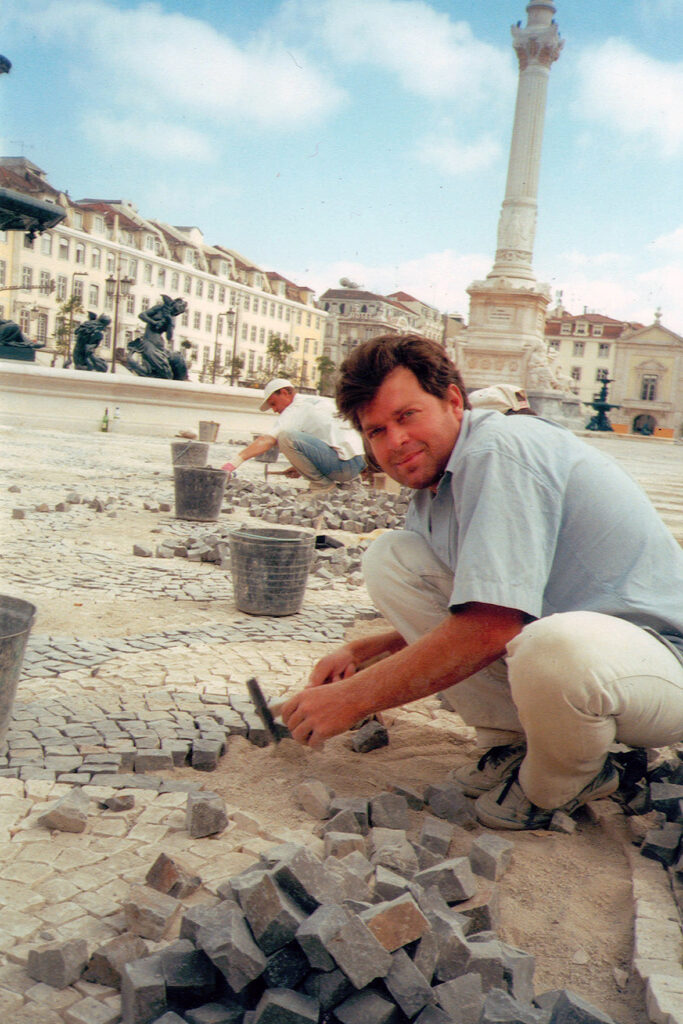 Fernando Simões was born in Lisbon in 1969.
In 1984 he initiated himself in the art of mosaic. Today has activity distributed for diverse projects in some countries including Spain, Germany, Belgium and Macau.
In Lisbon he executed Azevedo´s Pharmacy floor, the integral replacement of the roundabout of Marquês de Pombal,the center of Rossio and the replacement of Largo de Camões.
In Algarve he executed interior pavements in diverse hotel units including Hotel Oriental, Marina Hotel, Sharaton Hotel, Ampliores Hotel, Casino de Vilamoura and Hotel do Mar in Sesimbra.
In Macau besides have given technique formation to local elements, he executed the floor of the Palace of Santa Sandra, Palace of the Government, Garden of the Arts, Temple of A-Má, Garden of the Nape, Maritime Museum, roundabout of Tower of Macau and Santa Casa da Misericórdia Museum.
In Spain, in the island of Gran Canaria, executed Plaza Woermann´s floor in Las Palmas. In Tenerife Abama Hotel Resort and in Marbella worked on the pavement of Monte Mayor Golf and Country Club. In Cadiz he also executed the pavement of Monte Medio Club Golf.
Fernando Simões also learned the art of sculpture (International Centre of Sculpture).
Exhbitions