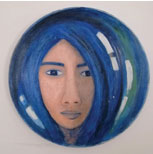 Vai was born in Macau.
She studied business administration in college and obtained a master degree. Starting from 2000, Vai started learning pencil sketching and oil painting.  Recently, she has more participation in various art events and education.
Throughout these experiences, she realised that there is no age limit to become an artist. Her artworks have been selected and displayed in several joint exhibitions in Macau.
Exhbitions
OUR FAMILY – 16th Anniversary Collective Exhibition
28th August — 21st September, 2019
The Collective Exhibition will be held in Creative Macau starting from 28 August to 21 September, 2019. 29 members create a structure of the "family" as an artistic project; and compose a family portrait through the real and, or, within imaginary conception. From the abstraction to the substantial, we have been naming themes for our […]
RISK IS GOOD
25th April — 25th May, 2019
By the theme of RISK IS GOOD, we invited 6 woman members' artists to take inspiration and create few paintings as a body of work and what represent for they the idea of Risk is Good. Thinking the risk is good when we have loving and supportive people in our life, we end up being […]